Why I Always Keep A Valise By The Bed
By
Sandra Anfang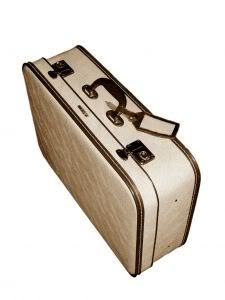 I love to waken in the half-light,
Where it guards the cedar chest.
Standing at attention, its perky checkered ribbon
Poised like a girlish bow,
Ready for a jaunt in the park.
It doesn't matter that I have no ticket,
No cab honks in the road.
I dimple just to see it,
Sentinel of the spiral path
That wends beyond the boundary of my life.
I will always follow,
Like a sleepwalker in a dream
So pungent I cannot but choose
To grasp the lead that pulls me
Toward the borderline.
I ache to see it every morning,
Totem of new eyes,
New ports for entering the world.
The sherpa in whose gaze
I lay my worries down to rest.
---

BIO: I have been writing since high school, when an aware teacher saw a spark and fanned it into a small flame. I find inspiration everywhere, especially when I am not looking for it.I find inspiration everywhere: among my students, in my son's heavy metal band, and in my disregarded yard.



MOTIVATION: I was weeding my closet because the local thrift shop needed donations. I filled a valise and left it by my cedar chest, at the
foot of my bed. It took a few days to deliver to the thrift shop. I liked looking at that suitcase; it made me feel like I was about to embark on a new adventure.

Photo by : M

arta Juez