The Gamble
by
Ann Marie Byrd
Francine eyed the weird assortment of humanity slouching toward the Las Vegas marriage license window. Would the short, oily, middle-aged man really find happiness with the barely legal crackhead? Their odds were as good as the Asian girl with the young soldier, or the tattooed, oxygen-tank guy with the prostitute in a short skirt and ripped fishnets. A divorce lawyer should hand out business cards.
Her sister, in a white silk afternoon-tea dress, wandered through this strange terrain. She had phoned a week earlier, announcing that she and Tom planned a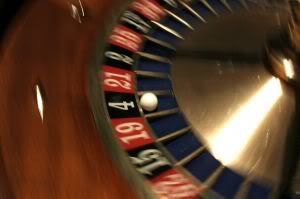 weekend gambling trip to Vegas, so why not get married? Invitation enough for Francine and her mother to hop a plane. It was a risk because her siste's volatile mood could turn foul if a breeze picked up in Tokyo. Tom reminded Francine of the Marlboro cowboy, with rugged good looks and assured silence. He wore a dark suit for his wedding but forgot to pack coordinating socks.
Don't worry about it. Nobody will notice your white socks.
They joined up the night before, the hotel's volcano erupting outside.Amid beating drums and a flame-belching volcano they checked in and hit the casino. The ladies caught up on gossip, dabbled at the slots, and Tom concentrated on blackjack and roulette. He was serious, but not like the desperate grandmother with frizzed hair plugging the slots or the disillusioned sweaty guy with hollow eye sockets. Dazzling lights and cocktail servers danced about, helping people unload time and reality.
Francine checked her watch: 3 a.m. EST. Huh. Time for bed, what with the wedding tomorrow.
Her quick morning session at roulette raked in $227 before the white limousine sped them to the Chapel of the Bells. Marriage memorabilia, for sale or rent, jammed the small lobby : rings, wedding gowns, bridal veils, bouquets, boutonnieres, garters, videos, an Elvis minister.
"Don't worry about it. They screwed up your preordered bouquet. Just pick one."
The ceremony amounted to a quick exchange of I-dos and rings, then back into the sunshine, laughing, smiling. They piled into the limo, cracked open the complimentary champagne, and steadied the plastic glasses in the traffic.
---
BIO: Ann Marie Byrd, Ph.D., has over twenty-five years experience in college instruction and administration. She is a founding editorial board member of EAT, an annual CD of story and music, and has published in Lost, America in WWII, Fiction Fix, and Literary Mama.
Motivation: The risks we take everyday for love, for family, for money. A Las Vegas wedding brings these issues into focus.