Thistle Sock


Tiny seeds teased from mesh
with practiced pincers.
Precious protein in the false
fecundity of Spring.

Fuel encased in hard shells
both outer
and inner.

What secret life therein
she hides, while gorging
on a banquet
in a sock.

In the darkness, hiding
a family yet to come
along for the ride,

swings gently on the breeze.
A sock in a tree.
A chick in an egg.

Thistle seed.

A baby in a belly,
hungry Spring.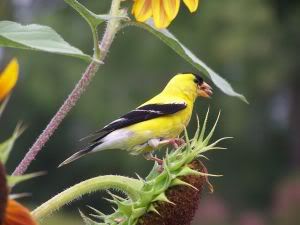 They Had Nothing To Say To Each Other
They had nothing to say to each other.
He sighed, breathed in a ragged shard of earthly air. Sighed again, long,
slow, and final. Everything that could have been said, should have been
said, many years ago. But opportunities to clear the air fade, as do
memories . . . and love.
Resentments held close to the heart, can choke the life from those who
cannot forgive. Forgetting may be easier. She stroked his cool cheek. She
held his hand, a remembered pleasure, though from what year? Memory
fades, and tears are lost to time. They had nothing to say to
each other.
---
BIO: Sue Campbell has been a: roller skater, frosty-rootbeer, mug-washer, tomboy, graphic designer, mom, wife, writer, younger, goatherd, domestic diva, world traveler, avid reader, birder, photographer, cheesemaker, poet, pauper, princess, queen? And she writes too.

In all seriousness, I am a freelance book designer who works with a small special projects publisher. I have been working in graphic design over 30 years, and in book design/packaging for about 8 years. Given all the kinds of graphic design jobs out there—for me, nothing is better than packaging the words of a writer in a way that enhances their beauty, reinforces their message, and sets a tone for the experience of the reader.
MOTIVATION:
Thistle Sock: In early spring, the goldfinches cluster on a mesh sock feeder in my backyard. They are so hungry at that time, before the earth blossoms with new life. I see these bright yellow birds like splashes of daffodils in an otherwise drab environment. They remind me that new life is coming—and it\'s bouncing in their tummies on that sock.

They Had Nothing To Say To Each Other:This is a drabble or prose poem of exactly 100 words. It was prompted by the first line. I just imagined a scenario using that, and the story of a long marriage coming to an end with the end of a life. It's a bit sad, but all too common.