Soup
by
Karen Carlson
My fever broke this morning, but my t-shirt is damp, and my bones still ache.
I need golden broth to seep into my marrow and muscles and membranes, float away the malaise. Soup that smells like a day off from school, curled under the quilt, toast and ice cream on trays, The Price is Right and Edge of Night on the television, Mom brushing my forehead with cool fingertips.
I call my sister in Freeport. "I've had the flu, I need soup," I say. "You should keep soup in your cupboard in case you get sick," she scolds. "I have to give the kids their baths and do the dishes and I have to be at work at 8 in the morning."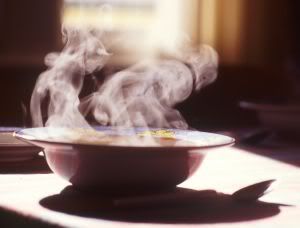 I call Joyce. She's on the Fellowship Committee at church; we'd chatted after services a few times. Her phone number is listed in the bulletin every week. She says, "I have to leave now for the food bank, it's my night to volunteer, but maybe next week, alright, dear? You take care of yourself now, I hope you feel better. I'll pray for you."
My neighbor is at her Spanish class on Tuesday nights, her husband says. My ex… no, no way.
An eager young girl answers the phone at Panda Garden. Wonton soup, close enough. "We have a $15 minimum on deliveries," says the girl.
"All right, add mu shu with two extra pancakes, and a spring roll."
"Your total will be $16.30; thirty minutes," she chirps. I give her my credit card number, then snuggle into the soft couch pillows, and dream of soup.
The doorbell sounds thirty-two minutes later. "Come in," I yell, unwilling to get up; my bad habit of leaving the door unlocked sometimes pays off. A young man brings in a paper bag. "Chinese delivery," he says. He isn't Chinese. I realize I'm still not making a lot of sense. He hands me a charge slip and a pen.
I point the tip of the pen at the word "TIP" and hold it there. "Would you do me a favor," I say. "I've been sick, I need soup. Can you put everything but the soup in the fridge, and bring me the soup and a spoon?" I try to smile, but it wobbles. He looks at me, then at the pen pointing like a dagger at the tip line, then at me. Then at the paper bag he holds.
"All right," he says, and I point towards the kitchen. He comes back in a few seconds with the Styrofoam bowl of soup and a teaspoon. I write "$10.00" on the tip line and sign the receipt. He takes it, says "Thank you," and goes.
I take the plastic lid off the soup; steam rises, not much, but enough. I inhale it into my tired nasal passages, long past the point of registering delicate aromas. But I take it on faith: it's delicious.
---
Bio: Karen Carlson lives in Maine, and writes about the lost, the lonely, and the confused. Her work has appeared in various online journals, including Word Riot and Pequin.
Motivation: We're all so busy doing Good Works and Great Things, all but the most dire emergencies need to be pre-scheduled and minor comforts may have to be purchased
Image by: Karen Winton