October 13th
by
Vicent DuBach
I flipped through the calendar. It was for the previous year, and I looked through the days, at the red circles and the red pen scribbles. August… September… October. Huh. October. The start of the crimson leaves of autumn, and the month where one often prepares for Halloween. But that wasn't what drew my attention, although it did run through my mind; it was the 13 that was circled. Twice. That was the day.
That was the day it had all changed.
October 13th was the day I loved.
October 13th was the day I married.
October 13th was the day she died.
October 13th was the day I had lost all my will to live. The scars are still there, on my wrists. I failed. But then I had found myself, anew. But I promised myself, never to forget, October 13th, a magical date in my life. I had forgotten. I didn't visit her grave, I didn't give her the wreathe, the flowers. Tears welled in my eyes. How could I forget?
We met on the beaches of Corpus Christi. She was there on vacation, from her job in Austin. It was a hot day in the summer, but we were cooled by the sea breeze; I could almost taste the salt, feel the warm sand against bare feet. We clicked, in a way many won't ever come to know. Late at night, with the cries of the birds and intermingled with fine sand, we had made love. Then we left, forced by our jobs. But we communicated online, through instant messengers, voice chat, and telephone when we could afford it.
I loved her more than anything. Sometimes I felt I loved her so much, that I wanted to burst out of that house and run to her, cling to her, hold her, love her, no matter whether I would be fired the next day. She kept me close to rationality, though, and kept me patient, in a way that no other could.

We met again in a small bar. We drank a little, and talked late into the night. Then we got a room together, and we talked no more. She moved in with me shortly. From there, all of the memories up until our marriage jumbled into my memory. Her deadbeat ex-boyfriend,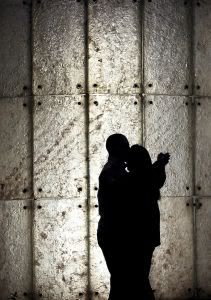 continually trying to tear his way back into her life. Our times in front of the television, together on the beach, our times at the ballgame. She had her faults and I had mine, but we strengthened our own resolve to make ourselves better, for each other and for ourselves. It was a bond that was unbreakable.
But it was broken. A year after our marriage, she died, on the same day we married, as if by some dark, magical coincidence. I could have sworn that I felt it the day she was hit by a car. A sudden tug on my heart, feeling almost as if something had been removed from myself. Or maybe my memory plays tricks with me, I don't know.
I sighed and continued to page through the calendar. There's never been anyone in my life since her. Only the books that I write, constantly over dark romance. It was as if all I could think of was romance that ended in tears.
Then, looking at that number, it struck me. That magic number. That magical 13. I needed to get away from it, from her. I threw the calendar aside. I would move on. I wouldn't forget her, no; why would I want to do that? But it wasn't her that haunted me, it was her death. That darkness in my heart that would never go away. Would she want me this way? Pining after one day in the year, only surrounding myself with dark books I write? No.
October 13th was out of my mind. I needed to move on. Perhaps I'd even learn to love again. Perhaps not. But instead of imagining her in her coffin, I would have to learn to imagine her before then, as the happy woman that loved me before her death.
The smiling woman, that I loved on October 13th.
The smiling woman, that I married on October 13th.
The smiling woman, that died on October 13th.
Today is a new day.
---
BIO: Vincent DuBach has always been a vagabond, traveling to many countries under his mother. He has always found it difficult to figure out what he wants in this world, and his interests are manifold. He has wanted to be an astronomer, a historian, and an author, all at once. Above all else Vincent loves to be inspired; whether by writing, spoken word, song, or star. Inspiration is all that he lives for, whether it is dark, fantastic, science fiction, science fact, or just a glimpse into the universe of stars and black holes..

MOTIVATION: For October 13th, I was inspired by thinking of those that suffer thanks to the loss of a loved one, and ultimately the feeling of desperation thanks to having only long distance contact with a loved one. I wrote this in dedication to their grief.
Photo by: Constantin Jurcut