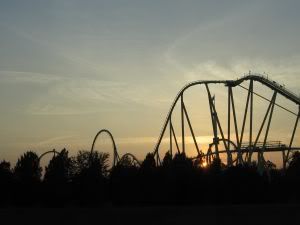 Extreme
Seems like a swell idea
to ride the rollercoaster
until that click, that lurch, that slow grind of metal on metal
wheels, chains engage, safety bar weighs heavy on my chest
exhale
inhale
nervous laugh
peak panic
swoosh releases power, inhibitions, fears
P
L
U
M
M
E
T
twist, gasp, turn, scream
exhilaration
stomach remains minutes behind.
©Joanne Faries
---
BIO:
Joanne Faries, originally from the Philadelphia area, lives in Texas with her husband Ray. Published in Doorknobs & Bodypaint, Off the Coast, Orange Room Review, and Salome magazine, she has also has stories in The Shine Journal magazine, and A Long Story Short.
A member of Trinity Writers' Workshop in Bedford, Texas, she is also the film critic for the Little Paper of San Saba.
MOTIVATION: Summertime Fun