Full Moon Racing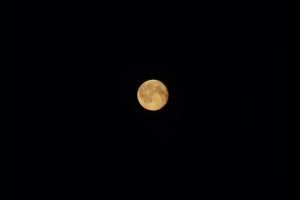 Moonlight Series Regatta, Saturday,
September second, 10 pm first gun. Full moon

uncovers, backlit clouds, slowly drifting by.

Distant lightning flashes, soundless, passing storm

heading north. Hot, still humid, gentle breeze.



Six two man sailboats, trailers. Moonlight

launching ramp. Masts raised, shrouds attached.

Lapping splashes, each in turn sets out.



On shoreline quiet movement on six docks,

dinghies paddle to moored hulls. Hushed voices,

covers stowed, limp sails raised. From six directions,

six white ghosts glide out.



Distant motor putts, moving point of light,

leaves a floating light behind and then a third.

Three lights are still, the motor dies, the course is set.

Twelve white ghosts converge

greeting each and starter's boat.



Before the start, full moonlight, foot high rolling fog.

Shoreline lights round low white cloud.

Hulls vanish, disappear.

Floating, luminescent, tear drop tilted sails,

gliding, start the race, catch zephyrs

slipping through low wispy mist, surreal.



Race snail's pace, wine corks pop, laughter,

quiet conversations, taunts, drift above the cloud.



First mark's rounded, ghosts wander past,

night a dreamland world. Zephyr heightens, building breeze

mist swirls, disperses, disappears.

White fast snails approach the windward mark, then oh no,

random shower, pouring rain,

full moonlight. Tiny, crystal mushroom water spouts

from heavy raindrops form, surround each drifting sloop.

A toast, applause, more muted mirth,

enchanted lake transformed.



Last mark rounded, shower ends,

misty fog returns.



The finish line draws near.

Muted conflicts, moon obscured,

coasting ghosts converge.



Race is won,

by who's not known.

In darkness, fleet dispersed.



Memories, of a moonlit night

Our full moon magic race

Our world, a fresh new view





Prelude - Unleashed Raw Cold Power


Oceans round of cold Cape Horn,

Tierra del Fuego,

Patagonia's southern tip,

World's worst and wicked way.

Gale force, the winter winds preside

one day in three to shriek.

Old sailing ships so often lost,

and ships today in fear.

Wind and water currents meet,

from oceans east and west.



Hellacious howling winds must build,

forced between Antarctic ice

and endless Andes peaks.



To this mounting rarest storm,

Add icebergs cast from fozen land

small islands doomed to roam.



The storm is now, winds off the chart,

to waves that tower sixty feet,

add rogues of fifty more.



Close your eyes, imagine.



You're in the perfect storm.









Unleashed Raw Cold Power


Mountain's funneled fury,

Spawn chaos, round the Cape.

Herculean oceans writhe,

currents clash, erupt.



Screaming, piercing spray,

cloaking, telltale ice. Untethered,

lurks, cruel crags, submerged.



Relentless

cold explosions roar,

pounding rugged shores.



Detonations,

diabolic darkness, looms.

Infuriated, frenzied flood,

shrieks of icy gales.



Unleashed demons, towering peaks,

Decapitated, howling foamy heads,

sheared by tempest's,

cold, barbaric blade.

Colossal headless monsters writhe, curl, collapse,

Then like leering Phoenix,

rise again from death's abyss.






---
BIO and Motivation: Jon Forceton is the married father of four. "I have have spent a great deal of time sailing and on the water, which is what triggered these peices. I write poetry and fictionand working to complete two novels, one contempoary fiction and the other science fiction."
Full Moon Racing first appeared in The Victorian Violet Press Journal.