Moonlit Nights
by
Don Ford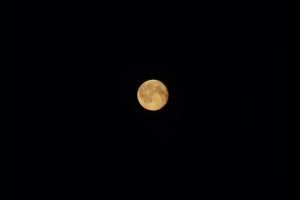 Overcasting dark the night
"I am the Moon in deadpan skies"
after splash of Sun : its light
reflected on what's down below
Every watcher feels the glow
if they could share a word
to open all the eyes and ears
it would be simply - welcome
The night is dark beyond all reason
coming there the lunar changes
moods and attitudes are altered
and warmly wanted is the light
The canopy now over spread
spilling onto roofs and treetops
washing into windows won't wake
those asleep, adrift in dreams
This Moon, softly casting shadows
mixed emotions generate freely
with open thoughts and gazing up
we focus then such concentration
skyward bound - eyes are fixed
but staying focused on the orb
They smile who look upon its faces
from right to top to side and end
another phase is seen tonight
every evening a new tale's told
Moon's King, the Sun, is held
in highest reverence and in awe
a lowering of the head and heart
the Moon it knows its place above.
---
Bio: Don Ford is a published writer of short stories and poems. Storytelling is one of strong suits. Humor seems to thread its way though his work. He also has a bit of nature in his back pocket - a tree hugger for sure.
Motivatan: abstract feeling that sheds light on the moon and its glow.