Grandma's Hands
by
Valerie Gray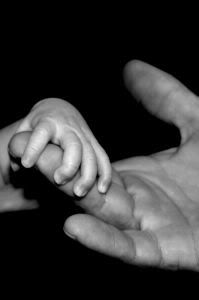 Every summer when I visited her, I watched her throw dimes out of her Roxbury, Mass tenement window...

I knew, even then, that these were precious - hard earned dimes that she chose to put aside during the leaner months...

dimes that could have brought her a dozen eggs ...or a sack of flour... or a quart of milk...or even a treat for herself...

Yet grandma carefully saved these dimes, so that barefoot little children with brown faces like her own... could experience

the magic of an orange dreamsicle tickling the back of their throats or shiver when the first lick of a Mr. Softee touched their lips...

Because you see...it was summer... the ice-cream truck was coming...and they were children...and it was that simple...

I watched those same hands bake like no-one else in this world...velvety rich bread puddings...roasted chicken and dumplings..

and my mouth still waters for just one more taste of her buttery rich - baked from scratch sour cream-pound cake...

Oh... Grandma's hands...

Those hard worn hands were never still... whether baking, cleaning, soothing, cajoling...comforting, healing or praying...

Even while sleeping, her hands opened and fluttered like butterflies...as though searching for meaning and purpose...or just to give...

Those hands shared all that she owned ..and her favorite bible quotation was..."The Lord is My Shepherd, I Shall Not Want...

and she never did... want for anything...

I would curl up at her feet when company came...more eager to be in her presence then to hear "grown folks" conversation...

And when other hands tried to shoo me away.. she would just smile and say "Leave her be...this gal's been here before."

I would reply, "Grandma, you are so silly, of course I've been here before.. I come to see you every summer..."

but that's not what she was talking about... and I did not understand this until many life lessons later...

I did not get to keep her long enough ...this sweet- faced grandma of mine...with the gentle hands and the tranquil eyes...

She died when I was just 11 years old...and totally unaware...that those hands were forever stilled...from doing this world's work...

And now... years later, as I watch my own granddaughter... marveling at her innocence... exalting in each of her accomplishments...

I look at my own hands and pray that they will touch her and guide her in such a way that she too, will one day fondly remember...
Her Grandma's Hands.
---
Motivation: Memories, wonderful memories
Bio: Valerie Gray is an accomplished writer and business professional based in Atlanta, Georgia. This is her second contribution to TSJ.