The Futility of Status

Moshiach has not come, and yet
This station's passed too quickly.
Today's beach shell baskets,
Yesterday's pretty stones,
Twigs with cones, baby's ribbons,
Remain nothing.
Faded texts of rhetoric and diction merely whisper.

There, a prized paint brush,
Here, a wee one's smile,
Captured on celluloide,
When Ipods, lap tops, digital machines
Were green fantasies,
Not barbital.
Some changes fail to mirror decades' passage.

A canister studded with Indian gems,
A box of Chinese tea,
Hand-crocheted pencil cans,
Heart-rendered paintings,
Puzzle bits fashioned to sing "Mommy,"
Retain no essence.
Light boards' professional relevance weakens.

Standing files, books, pens,
Paper clips in yarn-cupped hands,
Silent receptacles for students' mentations,
Yellowed notes,
Their motes aged on paper,
Recall no animation.
The better libraries remain de facto.

Clay, paper, scissors, ink,
A wisdom certificate for herbs,
Earphones against a neighbor's noise,
Discolored hedgehog photographs,
Amusements stored in memory books,
No longer bind.
Nothing is forever vital.

This preoccupation with professional living,
Sadly bypasses soiled nappies,
The healing power of hugs,
Ethereal kisses, mystical sing-song,
Long summer nights' revelations,
Reference little.
Obsolete artifacts restore no core.


Engineering Wizards' Best and Last (Interstate Enchantment)

Arabic assistant's poetics,
Like Champaign bubbles' holiday tricks,
Turn little. Hours of Aristotle,
Salad friends tossed, when shared with the bottle,
Bring no strawberry-grass dreams, nor tease
Smiles from tears. Midnight movies' release
Finds telephone's magic, plus charming peace.
Receiver's as warm as achievement's past.
Engineering wizards' best and last
Spell. Word blankets soothe; their wrap holds fast.


Autumn Migration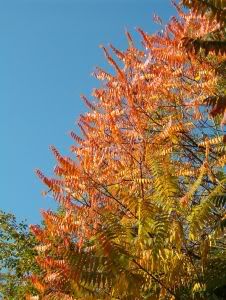 We look skyward, see
Great winged creatures flying,
Toward fall's red sun.


---
KJ Hannah Greenberg and her hibernaculum of imaginary hedgehogs roam the verbal hinterlands. Sylvan creatures to a one, they fashion verse from leaves, shiny bugs and marshmallow fluff. Some of the homes for their poetry have included: Cantaraville,Language and Culture Magazine,Poetica,Poetry Superhighway, The New Vilna Review and Vox Poetica.
Motivation:
The Futility of Status" is a perspective piece. Midlife brings not only sagging and mental muddle, but also perspective.

"Engineering Wizards' Best and Last (Interstate Enchantment)" is a reflective piece. I was looking at the eye candy, per se, of the man with whom I've spent the last thirty-two years and thinking about our initial romance.

"Autumn Migration" is an acknowledgment, a gratitude, a spoken "thanks" for the wonders of creation.