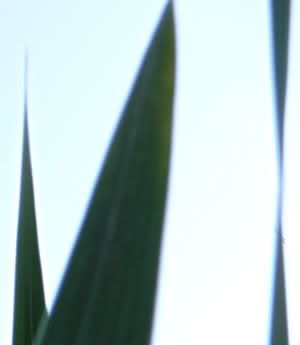 the fence
by
Dorothee Lang


birds mark invisible borders with songlines
while i sit with Walden beyond the Schilf fence
put up to shield the view to privacy,
to ying the yang in the quiet of dawn

the fence, it does the best it can,
yet it can't catch those words
thrown from beyond the fence

contempt, i understand, but am wrong
as a friend teaches me later,
from further than oz, from closer than the street
in front of the yard
not so much contempt, she sketches in a line,
but jealousy in disguise

and how do i answer that, i ask, the thorn of hurt
still stinging, yearning to be shot back with vengeance,
with a peng of words, even though i stepped on
the clue before, stepped on it myself:
no words, no words,

willful disobedience
to the laws of anger,
grace.
---
Bio: Dorothee Lang is a writer, web freelancer, and editor of BluePrintReview. She lives in Germany, and currently is into skies, microformats. Recent publications include: elimae, Nanoism, The, Dogzplot, eclectica, Wheelhouse, Locus Novus and now The Shine Journal. The photos "Light 1" and "Light 2" on this page are also hers. For more about her, visit her at blueprint21.de.