ALL HAMMERING DONE

by
Robert Laughlin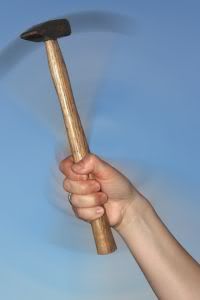 A man walked inland from the vacant strand.
The animals had holes and bowers for bed;
The man had tools, extensions of his hand.
This land does not conform to me, he said.
I'll make a tool to hammer all over this land.

He hammered out a house atop a hill.
His sons built grander, heedless of fatigue;
It was a sin to leave a hammer still.
Their numbers grew, they hammered every league,
Not dreaming of the day this land would fill.

But fill it did, as time decreed it should.
No unused land, no hammering anymore.
The trees were gone, no boards to make from wood;
The mines were bare, no nails to make from ore.
All hammering done: this land was nailed for good.

---
Bio: Robert Laughlin lives in Chico, California. He is the creator of the Micro Award, an annual competition for previously published flash fiction. Two of his short stories are MWA Notable Stories, and his first novel, Vow of Silence, has been released by Trytium.

Motivation: The folk anthems of yesterday can have a severely dated, even sinister ring when we consider the problems of today. I bore that in mind when writing this piece of eco-satire.