Home To Roost
by
Randall A. Martin
"Read my lips, old-timer." Sheriff Jones, leader of the search party, spoke slowly and distinctly. "Wait here. If Gene's out in those woods, we'll find him. Understand?"
"I understand," John said.
"Besides, Cal's coming along."
John's grandson smiled. Or was it a smirk? At eighteen, Cal lived for cars, girls, and the next party. More than once Sheriff Jones had brought him home drunk. Gene, his seventeen-year-old half-brother, was the real hand.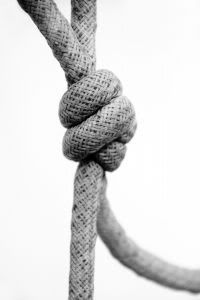 John loved his grandsons, his closest living relatives, and while his 260 acres wasn't exactly the Ponderosa, he had promised it to them. That was a mistake—Cal wanted to sell it: Gene, to work it.
John paced. Shadows grew longer. Finally, he shrugged into his coat, checked his flashlight, and grabbed his lariat. The boys had been hunting squirrel when they had become separated. To the east —or so Cal claimed. John headed west to where he had warned the boys never to go alone.
Thirty feet down the dry well Gene rubbed his fractured ankle. He could yell no more.
"Cal, if I get out…" Reluctantly, he fired the last round from his .22.
A flock of starlings exploded from the darkening windbreak. John headed toward it.
A light shone at the rim of the well. A rope was lowered. Painfully, Gene pulled himself up, hand-over-hand.
"Grandpa!" Gene signed. "How—"
"I may be old and deaf, son, but I'm no fool. Something spooked those birds. At sunset, they should have been going home to roost."
---
BIO: Randall A. Martin is former President of District One of the Kansas Authors Club. His flash fiction has appeared in Alfred Hitchcock's Mystery Magazine, Flash Me, and Whispering Spirits, and his short stories won Second Place and Honorable Mention in the 1st Annual Kansas Writers' Association's Scene of the Crime Competition in 2006. He is working full-time as a technical editor while pursuing a BA in creative writing. He lives in Topeka with his wife, Linda and their cat, Rosie.

MOTIVATION: Photo of birds at evening
Photo by: Claudia Meyer