AGAINST BETTER INSTINCT
by
Diane Mulligan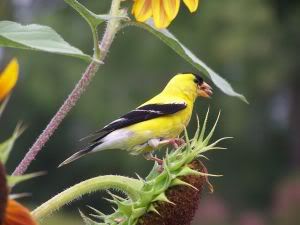 The birds have enough
to eat all summer without
my full feeders yet

I replenish them—
more and more often—afraid
they'll fly and never

return.
I keep them
fat and happy where I can
watch from the window.

They fill their bellies
like they're waiting for winter,
the thin season that

I will thwart with my
sunflower seeds.
They'll not
go hungry in my yard,

but they don't know that.

Sometimes my heart flutters
like the frantic wings

of a big blue jay
desperate to hover at this
too-small perch, afraid

it'll go hungry
tomorrow, though all around
the green ground offers

every kind of bug,
seed, and berry.
I watch its
wings beating, wish

it would soar instead
into the world where feasts
are found and not given.
But I don't take the
feeder down, and the cardinals
and chickadees and I

stay close to the house.

---
Since 2002, Diane Vanaskie Mulligan has been an English teacher at St. John's High School in Shrewsbury, MA, where she also serves as the director of the Betty Curtis Worcester County Young Writers' Conference. Her poetry has appeared in English Journal, Her Mark 2008, and The Ballard Street Poetry Journal, among others. In 2010, her poem "Wife's Tale" was awarded third place in Worcester Magazine's annual poetry contest. Her chapbook, The Life that's Right for One is available through lulu.com. She is a graduate of Mount Holyoke College and earned her master's degree at Simmons College. She lives in Worcester.
Motivation: This was inspired by watching the birds at a feeder in my backyard, which we keep filled even in the summer because our house cat likes to watch the birds.