Yesterday
by
Ellen Notehelfer

The nurse dresses him in his going home outfit, the tiny blue one-piece with the sailor collar Aunt Clara sent from England and the blue hat you crocheted, a little big for a newborn but you were sure he'd grow into it, and she places him in your arms with Nathan standing behind you, posed for your family picture, though you refuse to ask why Nathan's hand grips your shoulder so tightly it hurts—his mouth pinched, chin trembling, or why the doctor looks so serious, because you don't want to hear him say again how sorry he is and how he did everything possible; you just want to stay in this moment forever, the clock stopped between yesterday's innocence and today's understanding,
because yesterday God was still a loving Father who knew how to give good gifts to his children and you were blessed, your future filled with a little boy you would name Joshua—a biblical name for this long-awaited child, this answer to prayer, this life you talked about late into the night as you held hands and dreamt of the books you would read to him—good books like Huckleberry Finn and David Copperfield, and the dog who would be his constant companion—a mutt you would rescue from the pound, and all the things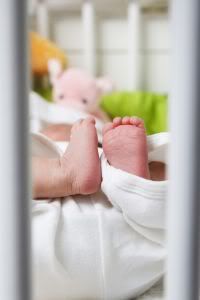 you would teach him: how to hold a sea star and gently return it to the tide pool, how to find Orion in the night sky and name the stars, how to bait his own hook and catch fat pink trout from the creek below the house;
yesterday when Nathan's touch was light and his hand gentle as it moved across your belly waiting for the kick that made you both laugh with immutable happiness, when you watched the circus elephants come to life as you stenciled each layer of color until they danced and pirouetted around the nursery wall winking gaily as the last touches of black were added to their eyes and laughing faces, but you can't stop the knowing forever because the clock refuses to hold still and once the camera's flash no longer blinds you, yesterday's happiness will dissolve under the harsh fluorescent lights of today's hospital room,
and tomorrow, tomorrow you will understand that God is an Indian giver who blesses with his right hand and snatches away with his left, that the baby you hold is not the son you will watch grow up but the child you will bury, and while the sad-faced doctor enjoys Sunday dinner with his family and between bites of prime rib and sips of a rare burgundy tells his wife the sad story of the baby he couldn't save, and Nathan, like Job, finds solace in prayers to an indifferent God, the dancing elephants will mock you with their laughing faces until you paint them into oblivion with black, angry strokes; because yesterday, your world came to an end.



---
Motivation: Before retiring, my husband served as an emergency room chaplain. I would wait up for his return whenever he was called in for the death of a newborn baby to hear the heart-wrenching stories. He told me that one of his goals was to convince father and mother to have their picture taken with the dead or dying infant to record the fact that this was a person. I imagine it took a great deal of time for this to seem like a gift.

BIO: I am a retired network specialist who has switched gears from the world of technology to the world of creative fiction. I live with my yellow lab, McGee, and husband, Peter, on beautiful Camano Island in the Puget Sound.
***Want to send a comment to this creative? TSJ does not share email addresses. Send an email to TSJ and it will be forwarded accordingly.***