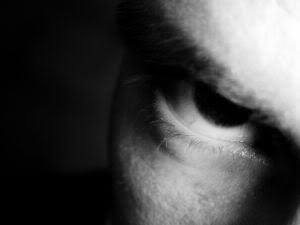 He gave her a hot oily stare
soon as he realized someone else
could dream about her.

What if they changed the shade
of her copper skin, or if her eyes
were no longer calico? 
What if she followed that man
to the movies and flipped
her phone number into his hand
just to watch the leaf storm

wade around his body?
What if she wanted to touch,
touch and lift him with her copper
right there… in the dream?
 
Ortiz has a B.A. in English literature from> Inter-American University, and a M.A. in philosophy from World University.  He has been recently published, or his poems are forthcoming in: The Battered Suitcase, Zygote in my Coffee, Right Hand Pointing, Poui: Cave Hill Journal of Creative Writing, Writers' Bloc and Temenos: Central Michigan University's Literary Journal.  Flutter Press published his chapbook, At the Tail End of Dusk (2009).
Motivation:  I was inspired to write this poem when I remembered I had two students that actually had calico eyes.  One set of eyes were blue and green, the other were green and light brown.  I tried to imagine what would happen if the person they loved were became jealous.