Ghostly Child
Ghostly child
peering through
foggy mist
watching from afar
from another dimension
in Another era
from another place
drifting through time
caught in between worlds
towards spirit light
of beacon bright
shining on her
the way to go home.
She lingers on
from dusk until dawn
floating through air
searching for her mother
who was lost at sea
from long ago
entity from eternity
forever lives on
in her daughter's ghostly heart.
Free her from the earthly plane
into the spirit world
where she belongs
in finding peace
rather than remain
in limbo state
away from her mother's
loving embrace.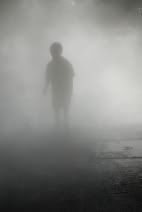 Goddess of Nature
Sea nymph
of oceans deep
mystic in light
hidden in night
honest and pure in thought
messenger from the universe
life lessons of angel wisdom
spreading word with fluttering wing
watching over us
with emotional flow
rippling waves of heart beat
in waters deep
beneath the core of existence.
Fairy tales in myth
of stories told
from another time in fantasy
beyond the shores
of pearl and shell
tests us in time
to learn and listen
from nymph of reason
protecting mankind
with worldly knowledge
of futures told in advance
from the goddess of nature.