THANK GOD I SAW BILLY SUNDAY
by
Tony Press

Billy Sunday came to Burlington when I was fifteen.  He was God in a gabardine suit.  In Iowa.  He demanded we save our souls.  If we opened our hearts and walked with him, salvation was ours.  I believe the first time I saw him I really did think it was Our Lord Himself in front of us, up on South Hill, just wearing modern clothes.

It was 1905, so that was fifty, no fifty-one years ago.  I went with my grandmother every night. Now I'm older than she ever was.  Everything was different for her.  She was born in Pennsylvania in the middle of the Civil War.  Her father never laid eyes on her, slaughtered with so many at Gettysburg, all those bodies rotting on Independence Day.   Her mother married again to a vicious man who dragged them all the way to the Mississippi, drinking and worse the whole way, and finally the mother gave up and died, just thirty years old.  She was only fourteen, my grandmother, when she paid a man to row her across the river almost exactly where the bridge is now, the very day her mother was buried.  She told me she had no trouble living so close to Illinois as long as the Big Muddy was in between, and she never did see her stepfather again.

Imagine me at fifteen in my calico dress like those old photographs, every night in crowds the likes of which I had never experienced.  Hear me now:  Billy Sunday was your Elvis Presley on the Sullivan Show.  He was Frankie Sinatra.  He was Valentino and Rudy Vallee combined.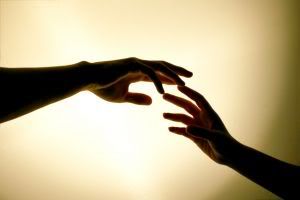 He hollered and strutted and preached for hours.  "Christianity isn't for the weak or faint of heart – it isn't for hogs or weasels!"  He'd been a famous baseball player, you know, before he found Christ.  He said, and you could see it was true, that his body was his temple, a gift both from and for his maker.  You saw his muscles bursting to break out of his suit and every night we got there early, front row.  He was a handsome man.  We didn't have microphones in those days but he didn't need one.  I don't believe he even once used a megaphone.

Forty consecutive nights.  I remember my grandmother sleeping almost the whole day, every day, thick brocade curtains drawn tight against her windows.  She was already frail, her body ravaged by a life so much harder than mine, or yours.  But at sundown she was the one leading us up the hill.  By the end my grandmother had completely accepted her savior, which was a blessing because she lived only until the next spring, already had inside her whatever was killing her and probably knew it, too, though no one else did.

I am no longer inclined to rush to religion, but I remain grateful to Mr. Billy Sunday for what he gave my grandmother.  She received every word and each found residence inside her heart.  For me, it was my eyes, not my ears, that took him in, that conducted his energy into my body, and it was each animal step that pierced my body, that transformed me, over those summer nights, from an ignorant young girl to a sexual being.  Billy Sunday never touched me, but every man who ever has should thank God I saw Billy Sunday.  I know I do.  

Motivation: All thinks are possible in the beautiful Burlington, Iowa, public library, overlooking the Mississippi.  I'd seen an old newspaper clipping, and wondered about the rest.
Bio:I live close to the Pacific.  My fiction appears in Menda City Review; Lichen; Temenos; MacGuffin; and, just accepted, Foundling Review.