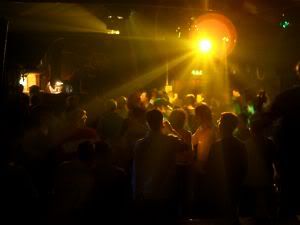 Escaping the Night
A sunshine smile
equals a thousand unspoken words
brandished by complacency,
tethered between Doc Martins.
Awkward movements and jutting angles
as arms outstretch and wrap behind
your Old World Spaniardesque hair,
resting finally at your ruffled skirt.
Moments fragmented by time,
anxious to be captured
and encapsulated
through alcohol soaked membranes.
Swaying hips
brushing backbeats and variegated tempos
only coming to a standstill
with the silence of closing time.
©John Pupo
---
BIO:
John has been stuck in a life of retail for over 10 years. Besides the yearning for breaking free, he feels that he needs to answer to the bouts of creativity that swell up inside him.
Motivation:
Escaping the Night - A view into the night of a possibly drunken narrator as he/she ventured into a club.